FT370
From FT Covers
Previous Issue -- Next Issue
Fortean Times #370 (Sep 2018)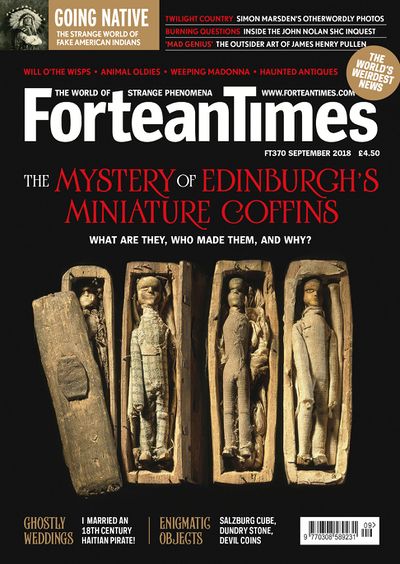 Release date: 16 Aug 2018
Cover price: £4.50
Cover: Courtesy National Museums Scotland
White Elk: McWhorter Photograph Collection, Washington State University Libraries
All header icons throughout the magazine by Capucine Deslouis
Digital editions: Official App on Google, Apple --- Zinio (268+) --- Magzter (283+)
Contents
18 The art of an asylum inmate
33 A tussle with Sir Patrick Moore
46 The Tribe of Wannabe: Red Fox and other fake Native Americans
66 A Life in Pictures: The otherwordly photographs of Simon Marsden
Features
34 Edinburgh's Mysterious Miniature Coffins (cover story)
In 1836, a group of young boys discovered a strange cache of "Lilliputian coffins" hidden on a hillside above Edinburgh. Mike Dash asks who put them there - and why?
42 Strange Stories from Southport
Rob Gandy unearths further tales of a Lancashire road ghost, as well as vanishing cars, weird lights, beach phantoms and the sound of invisible footsteps on a deserted street...
46 The Tribe of Wannabe
Many white Americans have made spurious claims of Native American heritage. Paul Willetts looks back as some of the most brazen imposters, from Red Fox and "the Crying Indian" to jazz age con-man Chief White Elk.
Reports
22 Burning Questions - The John Nolan SHC inquest Alan Murdie
56 Building a Fortean Library - The Corliss Sourcebooks The Hierophant's Apprentice
66 Simon Marsden: A Life in Pictures Jason Figgis
Forum
53 Dundry's mediæval mystery stone by Ted Harrison
54 In search of the Salzburg Cube by Ulrich Magin
Strange Days
A digest of the worldwide weird, including: weeping Madonna, two-tone cat, devil coins, dodo murder, and ghostly weddings...
14 Science
16 Archæology
17 Classical Corner
27 Mythconceptions
31 Fairies & Folklore
32 The UFO Files
Regulars
02 Editorial
59 Reviews
73 Letters
78 Reader Info
79 Phenomenomix
80 Strange Deaths
---
Previous Issue -- Next Issue