FT359
From FT Covers
Previous Issue -- Next Issue
Fortean Times #359 (Nov 2017)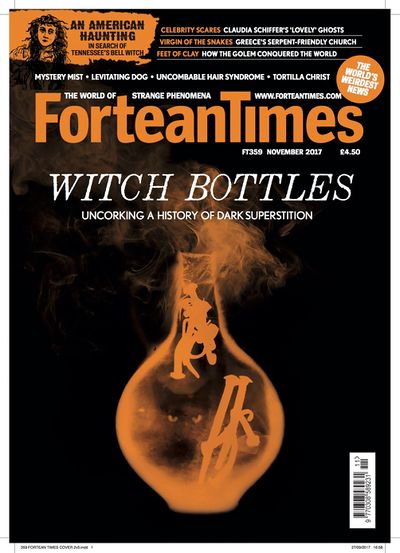 Contents
18 Claudia Schiffer's ghosts
26 The Virgin of the Snakes
44 In search of the Bell Witch
48 How the Golem conquered the world
Features
32 In Search of Witch Bottles (cover story)
Many ghost stories are based around the discovery of an item associated with supernatural beliefs. One group of finds with such links are Bellarmine witch bottles, 17th century jugs prepared to repel witchcraft. Robert Halliday investigates...
38 Twilight of the Witches
The medical and legal professions transformed the way accusations of witchcraft were treated in the 19th century, but the old beliefs lingered on - sometimes with fatal consequences. Dr Jacob Middleton explores the last days of the English witch.
44 The Bell Witch, Part One
If there's one piece of supernatural lore that everyone in the US has heard of, then it's probably Tennessee's celebrated 'Bell Witch' Roger Clarke goes in search of the spook-stalked pioneer home and its very American haunting...
Reports
50 Building a Fortean Library - Suspicious Minds The Hierophant's Apprentice
76 Fortean Traveller - Northern Souling Rob Gandy
Forum
53 Hinzelmann: The German Gef? by SD Tucker
54 The Golem walks among us! by Michael Barron
Strange Days
A digest of the worldwide weird, including: Lucifer's letter, Thai spirits, levitating dog, mystery mist, molasses flood and more...
05 The Conspirasphere
14 Science
16 Archæology
18 Ghostwatch
23 Alien Zoo
25 Mythconceptions
29 Folklore and Fairies
30 The UFO Files
Regulars
02 Editorial
57 Reviews
71 Letters
78 Reader Info
79 Phenomenomix
80 Strange Deaths
---
Previous Issue -- Next Issue